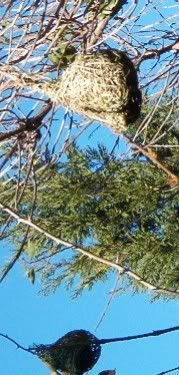 31-07-2007
Today is a lovely sunny day after the cold spell. Definitely a day to get the washing out in the winter sun. My body temperature feels just right in a thick acrylic winter cardigan. No coat or overcoat needed today.
The birds demolished their old nest and the male is building a new one for a fresh start. I see there is another female in a nearby nest. Lets hope she will have more luck with her brood.
According to the weather forecast there is another yet cold front due to hit Cape town.